Events
Kelvin Hall Open Days and Chinese New Year
Social Evening
One of the highlights of recent years has been the Social Evening. The first Social Evening was held in 1986 on the SV Carrick. Over the years the Social Evening was held in a variety of different venues:
1986 – 1989 SV Carrick – Moored on Clyde Street, Glasgow
1990 – 1991 Kingspark Hotel, Rutherglen
1992 – 2008 The Wickets Hotel, Glasgow
2009 – 2019 The Hilton, Grosvenor, Glasgow
In recent years the annual competition prize winners were presented with their trophies.
Much needed funds for the Society were raised at the evening from a silent auction. This would be followed by a quiz ably compiled and compered by Ken Norris.
A souvenir postcard would be produced for each year – the card from the first Social Evening in 1986 is shown below.
The Social Evening was not held in 2020 or 2021 due to the restrictions imposed by the COVID-19 pandemic.
1986 Social Evening Souvenir Cover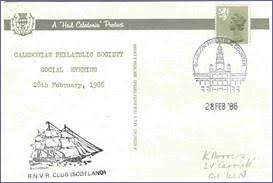 1924 Anniversary Dinner